Cova introduces a new pricing model; a free-for-life and a premium plan priced at $10/month or $100/year.
Cova is the ultimate asset tracking and estate planning tool, with the ability to track all assets in one place and assign a beneficiary who receives assets records in case of unexpected events. With billions of dollars  lost to unclaimed assets yearly, Cova helps users protects their fortunes from joining the unclaimed assets pool with the tracking and assets transfer/deadman's switch feature.
Currently, Cova supports over 11,000 financial institutions in North America, 25 crypto exchanges including Binance, Coinbase, Trust Wallets, over 8,000 crypto-tickers, and over 150,000 stock tickers from 65 exchanges globally.
What do you get with the Free and Premium plans?
Cova Free Plan - What you get Free for life.
Track Your Net Worth
Manual assets tracking; no real-time updates.
Manual liabilities tracking; credit cards, loans, etc.
Assign a beneficiary to your portfolio
500MB Vault storage space for vital documents
Manually update assets & liabilities when value changes
❌No cryptocurrency exchange/wallet tracking
❌No live stocks ticker tracking
❌No banks or brokerage accounts tracking
❌cannot connect finance & investments apps
❌Data is not real-time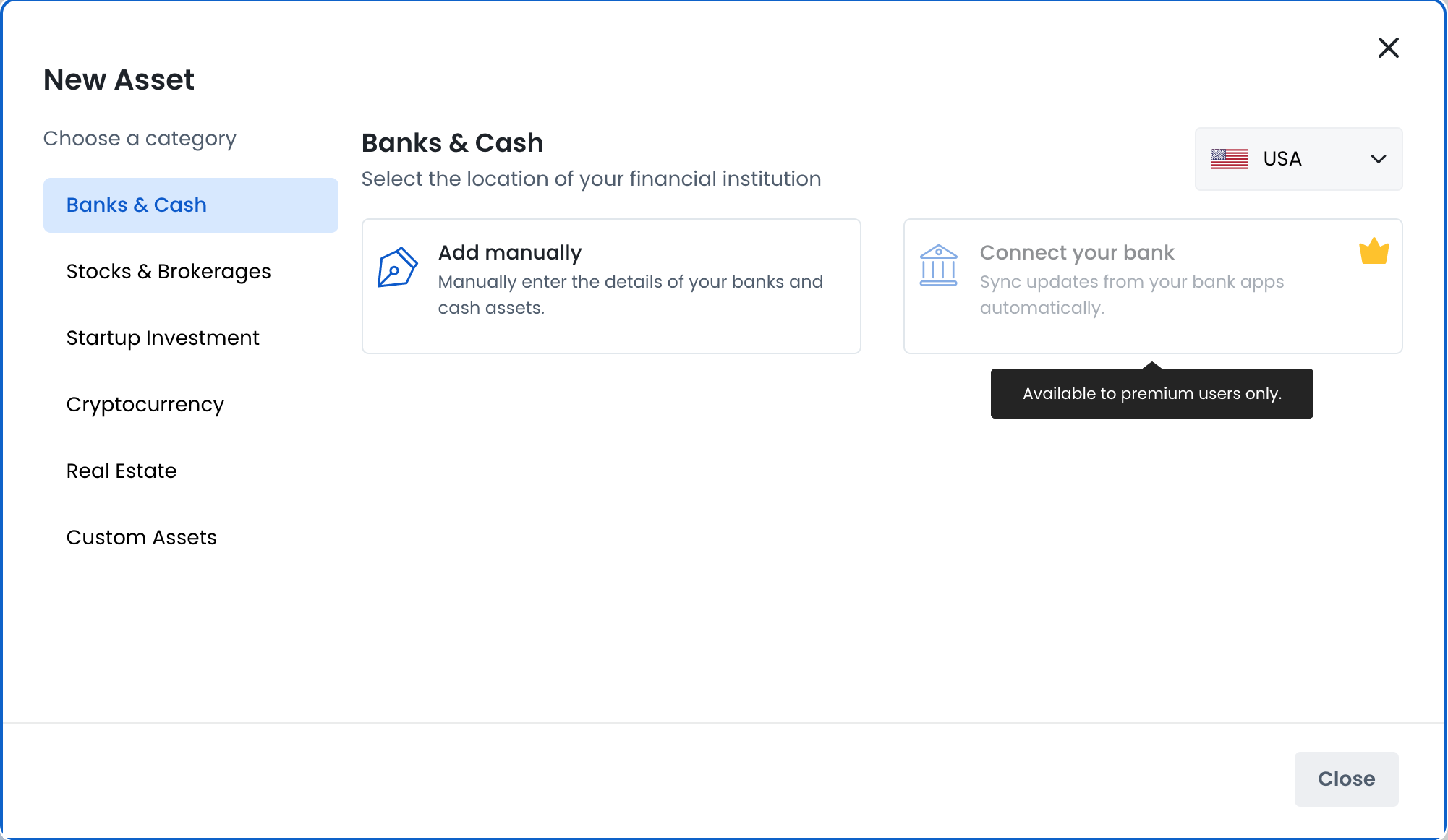 Getting on the premium plan simplifies your finance tracking. You have the unlimited ability to connect all your finance and investment apps to your Cova dashboard. In addition, with Premium, tracking is automated and in real-time.
Cova Premium - $10/month or $100/year.
Automated Assets, Liabilities, and Net worth Tracking
Sync data directly from your favourite finance and investment Apps
Real-time tracking of over 150,000 global stocks.
Manage over 8000 crypto tickers, wallets & exchanges.
Connect over 11,000 banks and brokerage accounts tracking.
Automated and Real-time Net Worth Tracking.
Automated liabilities tracking; credit cards, loans & more.
Manage beneficiaries to your portfolio; create a deadman's switch.
Unlimited vault storage for vital documents.
Monthly reports on portfolio and assets history report.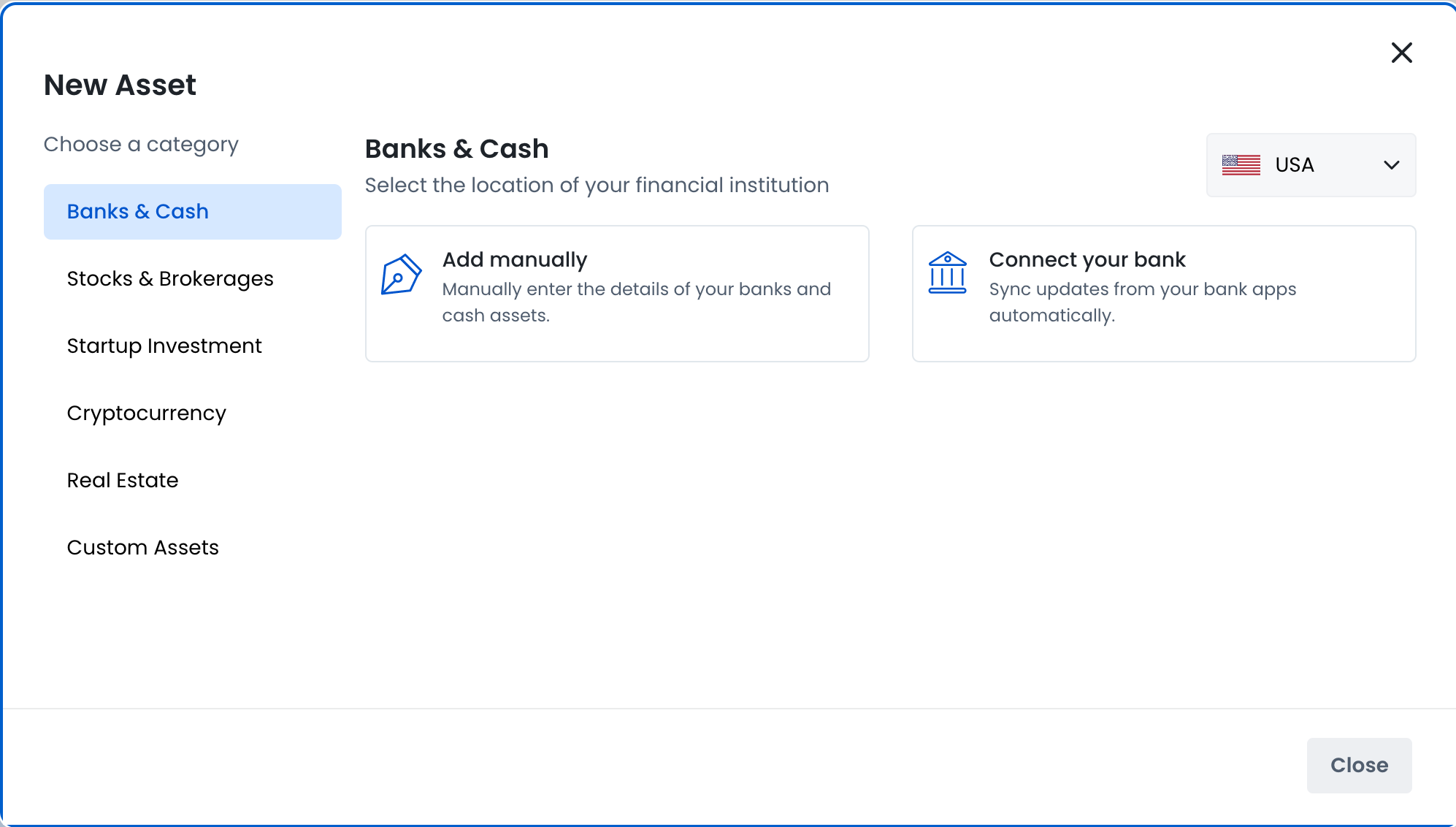 To track your assets and plan your estate effectively, Cova Premium is the best option. Automatic sync of all your finance and investment apps, including real estate properties, with Cova, is the ultimate tracking goal.
What Premium users are saying
"I searched the internet for a solution to help me consolidate my investments online and give access to my family in case I'm not around, then Cova came."
- Emmanuel, San Jose, USA.
"From real estate assets to stocks, 401k, bank accounts, and brokerage accounts, Cova gives me a clear view of all finances and the peace of mind that nothing will fall within the cracks in the event of any of life's emergencies."
- Seth Atham, Maryland, USA.