Cova helps you store all your financial data in one place, including information to  your banks, investments, liabilities, and traditional assets. In the same vein, with Cova, you can transfer this information to loved ones, or other beneficiaries, thereby creating a dead man's switch.

What range of assets can you organize in Cova?
Cova represents one safe place for your financial life. Organize and manage all your wealth and debts in one place so that nothing is ever lost. Cova is an all-in-one organizer for all your investments, assets and liabilities, and most important files and passwords.
The range of assets you can organize with Cova include:
Banks and Investments
Real Estate
Cryptocurrency
Stocks
Domains
Collectibles
NFTs
All important financial documents and passwords.
The Dead man's switch for your financial data
When life happens, what do you wish happened to your financial data?
Keep all data about your finances safe, secure, and private with Cova, designate a beneficiary to receive your financial records when the time comes.
Cova will provide your beneficiary with a access  of all financial accounts, assets, and property you have linked to your Cova dashboard. In this way, they'll have full access to your estate, but only when it's needed.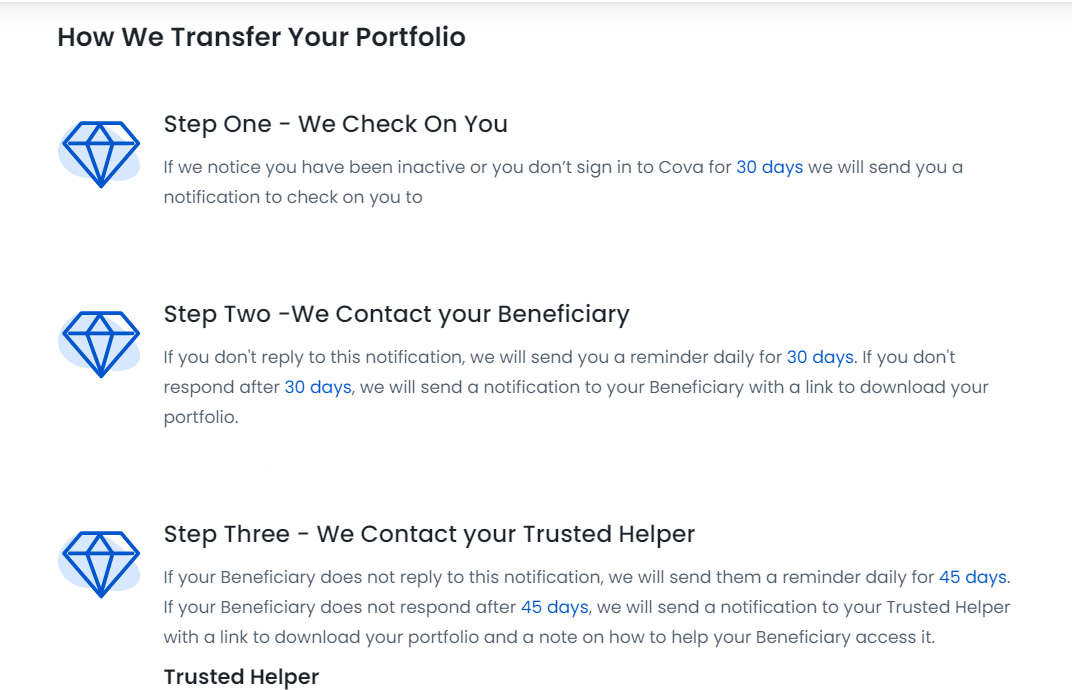 Manage your most  important financial documents, usernames, passwords and other essentials

Using Cova's Vault, store all your financial documents, estate planning documents, usernames and passwords, and other essential documents. Make sure that your beneficiary gets all of the information that they need.
Secure and automated asset transfer
In the beneficiary management section in Cova, you can select the period of inactivity after which your assets are transferred to your beneficiary. Cova also initiates multiple prompts to you after this idle period in an attempt to check in with you before transferring your assets as you've designated.
What happens when your beneficiary is not available to receive your estate?
A fallback plan to your beneficiary plan is the Trusted Helper, someone who helps your beneficiary receive your estate if they are not of age or unavailable at the time. Your Trusted Helper is only contacted after 45 days of failed attempt to reach your beneficiary.
Everybody is making Cova a core part of their financial and inheritance planning. You should too.