Keeping track of everything we own is crucial in a world where our investments are spread across multiple platforms, apps, and countries.
Personal Capital and Cova are two asset tracking services, and depending on your current need, this blog explores the difference between them and which one serves your needs better.
Personal Capital

Personal capital is an online financial advisory and wealth management company that helps people take control of their finances with their free wealth management service and personal finance tools; With Personal Capital, you get the following services:
Free net worth tracking dashboard where you can connect all your accounts and track your net worth.
Free personalized plan with a financial advisor Free Analysis
Wealth management services give you customized advice from an advisor, finance management tools, and cash management tools. Get access to wealth management services and free financial management tools.
In Personal Capital, you can link your bank accounts, credit cards, student loans, mortgages, auto loans, retirement accounts (e.g., 401(k) and IRAs), investment accounts, and crypto coins. Personal Capital is only available in the United States.
A typical Personal Capital dashboard looks like this;
Cova - The international investments tracking solution.
Cova is an international investments portfolio and liability tracking solution available in the united states, Canada, and Nigeria, with more countries being added.
Cova, just like Personal Capital, helps you connect and organize all your cryptocurrencies, bank accounts, stocks, credit cards, student loans, mortgages, auto loans, retirement accounts (e.g., 401(k) and IRAs), investments portfolio, and traditional assets like real estate, arts, cars, collectibles, etc. and track them securely on one dashboard.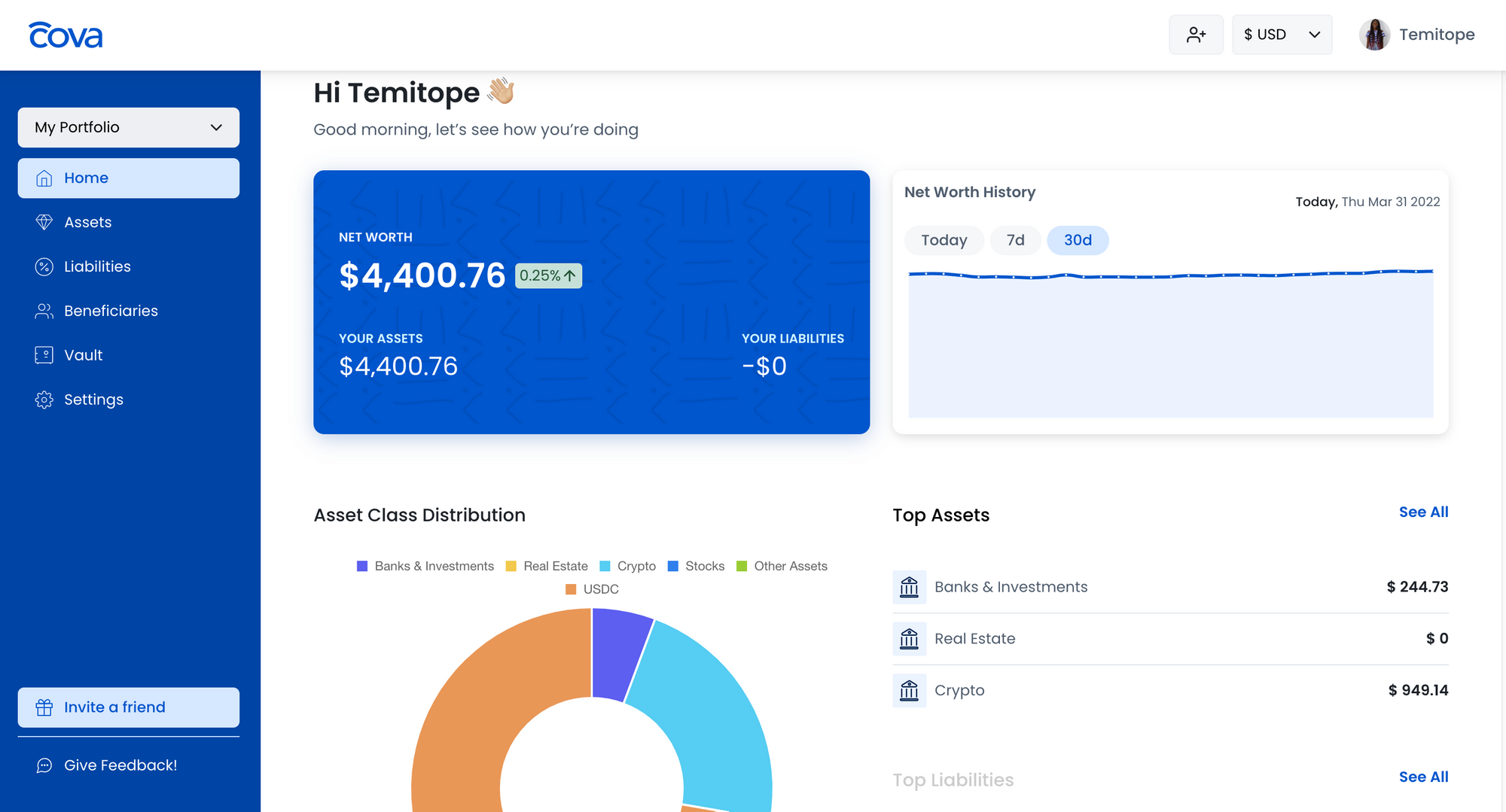 Why People Choose Cova over Personal Capital for Assets Tracking

Assets tracking is excellent, but that is just the beginning.

Crypto, NFT, and Defi Tracking
In the age of cryptocurrency and one individual owning crypto on different platforms, tracking that in one place is a crucial criterion in choosing a personal financial portfolio tracker. Track your crypto assets, Defi, and NFTs on Binance, CoinBase, Open Sea, and many more into Cova and track their performance in real-time. Cova also takes care of your Crypto inheritance planning, by enabling you to add a beneficiary who receives your crypto portfolio information in case the unexpected happens.
Ability to track traditional assets
From the get-go, Cova is different from Personal Capital because you can track traditional assets, like real estate, cars, cars, arts, and other collectibles. So you can imagine that even though it is a digital world, people still own traditional assets.
Assets tracking with Cova is international.
With Cova, you can track assets and investments across multiple countries, unlike personal capital, which is only available in the united states. Suppose you have investments in numerous countries and currencies. In that case, Cova allows you to track and manage over 11,000 financial institutions in North America and Nigeria, with more countries to be added in the coming months.
Cova is a solution to the global unclaimed assets crisis.
In addition to this, have you ever imagined what happens to your assets if the unexpected happens to you, like death or incapacitation? No one prays for this, but life does happen, especially when there is no will and no will and no way to track your apps, passwords, etc., leading to many assets going unclaimed.  Global unclaimed assets run into billions of dollars. Currently, unclaimed cash and benefits are worth about $58 billion in the US.
The solution to the unclaimed assets crisis is a crucial reason why many people choose Cova over Personal Capital or other assets tracking solutions. With Cova, you can track everything you own and owe and assign a beneficiary to your portfolio who securely receives your assets records if the unexpected happens.
This particular feature is why most investors choose Cova over other wealth portfolio tracking solutions.
Collaborating with the people that matter most to you.
Imagine that you need to work on your inheritance planning with your attorney or plan your finances with your financial planner, and you need to share your financial portfolio with them. Without Cova, you would need to manually list everything you own to share with your attorney, financial planner, or spouse. When you use Cova for your investment portfolio tracking, sharing your portfolio securely with the people that matter happens with a few clicks.
Who is Personal Capital best for?
Those with investments within the united states only.
People who do not own or care about tracking traditional assets.
Investors who do not care about the possibility of their assets going unclaimed since Personal Capital does not have the wealth records transfer feature.
Who is Cova best for?
Investors with assets in multiple countries
People who care about digital estate planning and what happens to their assets if the unexpected happens.
People who need an automated solution to assets tracking over Excel, Sheets, and Notion.
Investors who want seamless ways to collaborate with the people that matter in their investment portfolio, such as attorneys, financial planners, spouses.