What is net worth?
Net worth is the total wealth of an individual, company, or household, taking account of all financial assets and liabilities. Net worth is an important metric to gauge a person's financial health, providing a useful snapshot of their current financial position.
How net worth is calculated
Net worth is the total value of a person's wealth minus liabilities.
Net worth = Total Assets - Liabilities
Assets are things you own that have a financial value. You can either keep them in cash or convert them into cash. Examples of assets; include funds in the bank, mutual funds, retirement accounts, stocks, crypto assets, NFTs vehicles, real estate, collectibles, e.g., arts, and jewelry.
Liabilities are debts or outstanding financial obligations. In addition, any debt such as a mortgage, car loan, student loan, or credit card debt is included.
Note: Personal net worth is calculated from the current market value of assets and current debt costs.
Net Worth Example
Consider a family with the following assets:
Home valued at $200,000,
Assets including crypto, mutual funds, stocks, bank and retirement accounts with a market value of $150,000,
Automobiles, collectibles, arts, and other assets valued at $30,000.
Liabilities include:
An outstanding mortgage balance of $100,000
A car loan of $15,000
Credit card loan of $40,000
Outstanding student loan of $50,000
The couple's net worth would, therefore, be calculated as
[Total assets] - [Total liabilities]
[$200,000 + $150,000 + $30,000] - [$100,000 + $15,000 + $40,000 + $50,000] = $175,000
How do you track your net worth?
You can use the method above to track your net worth by listing your assets and liabilities as above and manually tracking your net worth.
On the other hand, you can track your net worth automatically and in real time  using a Net Worth Tracker, by connecting your investment and liability accounts to a dashboard and calculating your net worth in real-time. No manual tracking is necessary. I bet you'd prefer the automated net worth tracking.
The Best Net Worth Tracker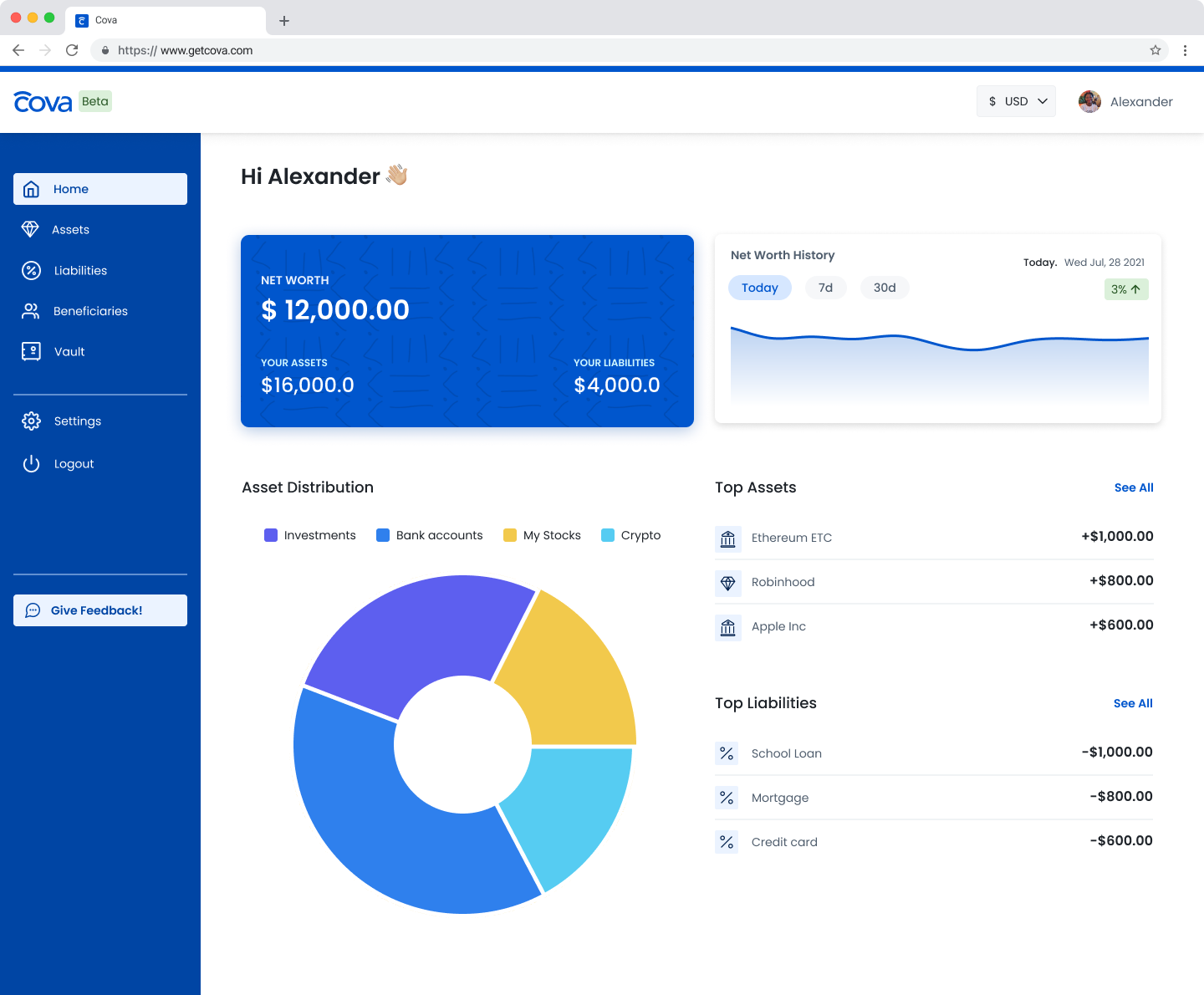 The simplest way to calculate your net worth is to use Cova's net worth calculator by connecting your assets: bank accounts, investments, retirement accounts, stocks, mutual funds, and liabilities like credit cards, loans, and see the true picture of your financial health.
Cova leaves no assets out in your net worth tracking
In comparison to every other net worth tracking tool, Cova allows for one-stop tracking of traditional assets like real estate, cars, collectibles like art, as well as digital assets like crypto, NFTs, and DeFi, as well as regular investments like banks and investment accounts.
In addition, Cova also allows you to collaborate with the people who matter in your financial portfolio and assign beneficiaries who will receive your wealth records if the unexpected happens to you.
Cova is the ultimate and all in one net worth tracking tool.
Beyond network tracking Cova helps you manage your financial portfolio in the following ways
Organize your financial portfolio in one place.
Manage your portfolio together with the people that matter; financial partners, attorneys, spouse
Set a death man switch that transfer your portfolio records to your assigned beneficiaries in case the unexpected happens.
How to use the Cova's net worth tracker:
Sign up for free on getcova.com
Link your investment and liabilities accounts
See your net worth in real-time.