Estate planning is the process of determining how a person's assets will be transferred or inherited in case of  death or incapacity. This is typically done in collaboration with one's financial and legal advisors.
A comprehensive estate plan, which usually takes effect after the death of the owner, covers everything from creating a will to transferring wealth to beneficiaries. Changing a will is only one aspect of estate planning.
Due to the increasing number of digital assets being acquired, people are seeking to digitize their estate planning with do-it-yourself tools to lower the cost of engaging professionals and also take more control of their estate planning. This do-it-yourself approach to estate planning would involve the use of estate planning software like Cova, an easy-to-use digital estate planner, that allows users to add beneficiaries to their assets.
Why Estate Planning is important
The total value of unclaimed properties in the United States alone amounts to $49.5B, according to SmartAsset.com. Now imagine the value of properties that remain unclaimed on a global scale.
People who plan their estate ensure that their assets and wealth are not left unclaimed while their relatives may not have enough.
With Estate planning, everyone can be catered to, including minors
Proper estate planning can maximize the value of the estate for the beneficiaries.
With estate planning, the transfer of a persons' wealth is done effectively.
Estate planning can potentially reduce tax charges on assets#
The total value of unclaimed properties in the United States alone amounts to $49.5B, according to - SmartAsset.com
Who should take part in Estate planning?
Anyone who has assets irrespective of the scope, including banks and investments, cryptocurrencies, collectibles, NFTs, jewelry, cars, etc.
While many people still believe that estate planning must involve hiring financial and legal advisors, savvy millennials use Cova, the all-in-one estate planning tool for digital and traditional assets.
Cova, the all-in-one estate planning tool for digital and traditional assets.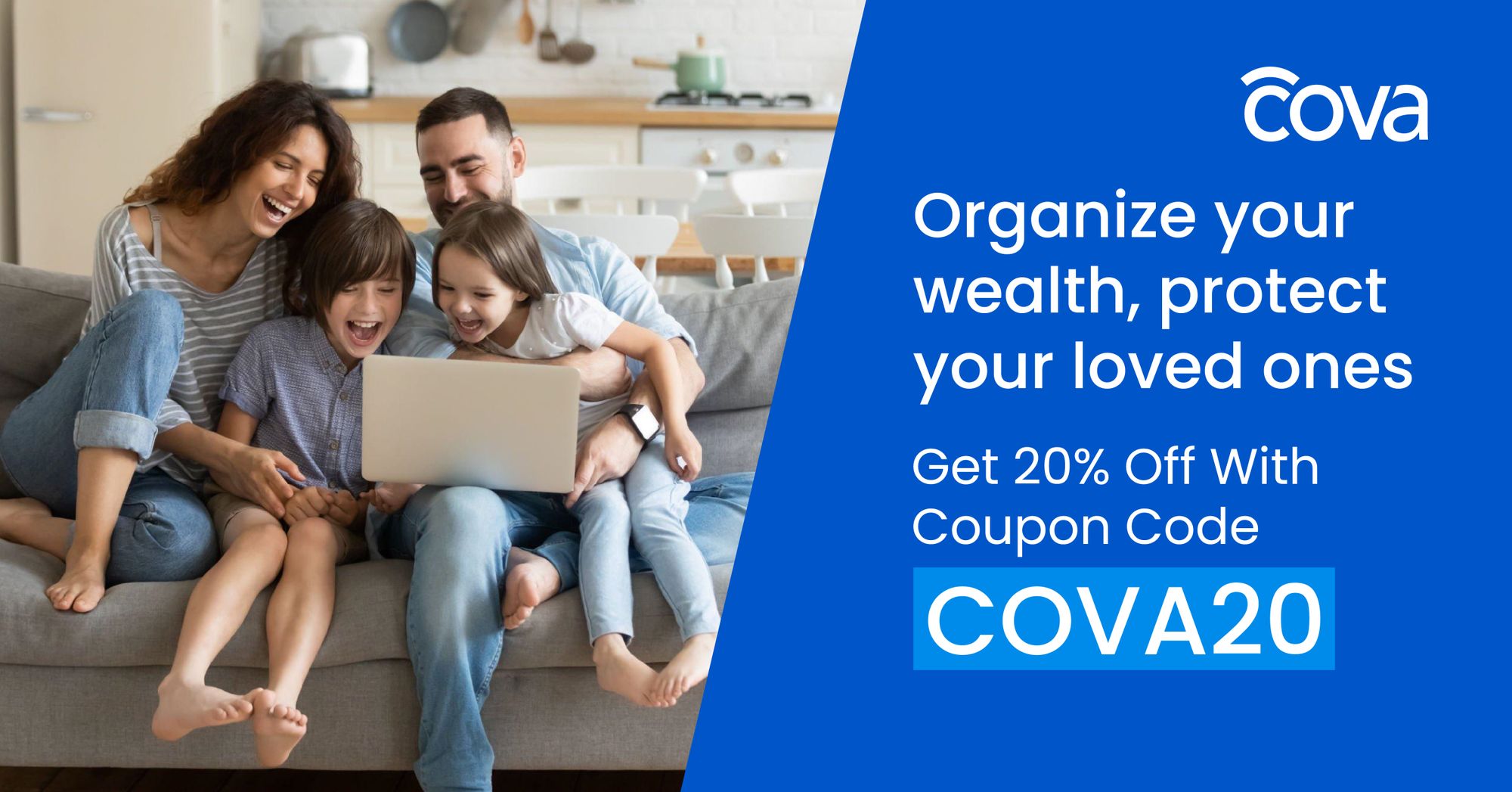 Five Steps to Creating an Estate Plan
Draw up a list of all the assets that you own.
Remember that we do not want to leave any asset unclaimed.
All forms of property, life insurance policies, private businesses, stocks, shares, bonds, debt owed to you, collectibles, NFTs, cryptos and more can be considered assets. By choosing Cova as your asset management platform, you are able to connect, organize, and manage everything you own without paying high attorney fees. With a dashboard like this, you can manage all your assets with a single view.
2. Decide who your beneficiaries are and what assets they should receive.
When selecting and assigning beneficiaries, Cova makes it easy since you can add a beneficiary account to your portfolio, which has access to your estate only when necessary. Furthermore, Cova has a secure estate transfer system.
3. Decide on the means of transferring your assets
Estate transfer can be planned to happen before or after a person passes away. Assets can be transferred during a person's life as a Deed of gift or by creating a Living trust; someone who receives holdings on behalf of a beneficiary should be unavailable, or the beneficiary is still a minor. In Cova, people can assign Trusted Helpers, who help the primary beneficiary receive their estates.
4. Execute your estate plan
Your witnesses should sign the relevant documents when needed, such as wills, insurance policies, living trust policies, etc.  These vital estate planning documents should be stored securely. The good thing is that with the Cova Vault, you can keep all essential estate planning documents safely transferred to beneficiaries upon the execution of your estate plans.
5. Review your estate plan regularly.
We are continually investing in new things, hence the need to update your estate plan or assets regularly to ensure that nothing is being missed. Beneficiary information may also change. It is essential to check that this is up to date. Cova makes this easy because you can connect every new asset or investment to your dashboard as soon as you invest. Changing your beneficiary or trusted helper information only requires simple edits.
Ready to set up your estate plan? Try Cova FREE, the all-in-one estate planning tool for all your traditional and digital assets?